Offering asset management services optimized to the investment goals of individual and HNW customers as well as institutions and their owners
Wealth Management SNI / WM / Corporate banking branch
Customer asset management
Global investment strategy
Tax/real estate/legal consulting
Pension Planning Pension Division
Personal Pension Asset Management Consulting
Providing a variety of products for the operation of pension assets
Wealth Management
A teams of asset management experts offers global investment opportunities.
A preferred service covering from tax to real estate to law to business succession for high-net worth customers.
Total solutions by corporate growth stage for institutional clients.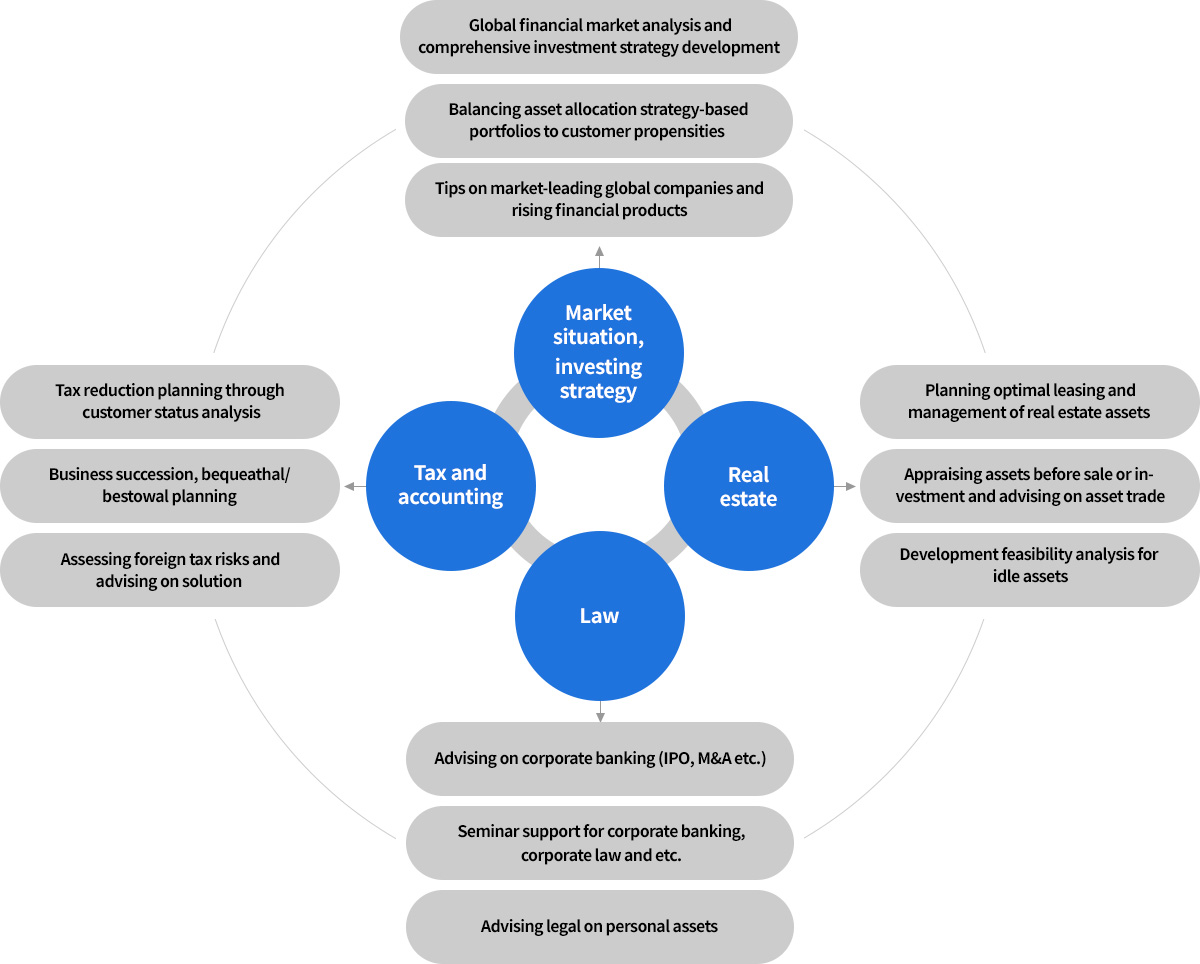 Market situation, investing strategy

Global financial market analysis and comprehensive investment strategy development
Balancing asset allocation strategy-based portfolios to customer propensities
Tips on market-leading global companies and rising financial products

Tax and accounting

Tax reduction planning through customer status analysis
business succession, bequeathal/bestowal planning
Assessing foreign tax risks and advising on solution

Law

Advising on corporate banking (IPO, M&A etc.)
Seminar support for corporate banking, corporate law and etc.
Advising legal on personal assets

Real estate

Planning optimal leasing and management of real state assets
Appraising assets before sale or in-vestment and advising on asset trade
Development feasibility analysis for idle assets
Pension Planning
Helps institutional clients better manage their pension funds.
Manages individual customers' pensions in a stable manner, ensuring a happier future.
Tips on a variety of financial products for the better manage pension assets.
Consulting on DB/DC plans
Consulting on DB asset/liability management
Consulting on employee asset management
Pensions management education
Pensions build-up/withdrawal solutions
Pensions care service
Samsung Securities offers domestic and overseas institutional investors stock/derivatives/fixed-income brokerage services as well as a wide selection of financial product portfolios.
Wholesale / Domestic and overseas stock/fixed-income brokerage, Prime brokerage service, financial and alternative investment products consulting services offered
Domestic and overseas stock and fixed income brokerage services as well as a wide variety of financial product portfolios are available for institutional investors at home and abroad such as pension funds, asset managers and insurers. Contract/brokerage/custody services are provided for hedge fund managements. Also offered are IR support and research consulting services with a focus on exceptional investment ideas.
Equity Trading / Offering Diverse services related to stock and derivatives market trading
Stocks and derivatives (futures and options) brokerage and arbitrage services are available for pension funds, asset managers and other institutional investors. Along with developing and supplying ETN products based on best-in-class systems and HR competiveness, Samsung Securities provides liquidity to ETF/stock market as a market maker, offering variety of investment strategies to customers via securities lending and borrowing/swap.